Après deux éditions de la Summer Break Party co-organisées avec le Crédit Mutuel et accessibles uniquement sur invitation, Disneyland Paris était en ce 8 Juillet 2017, le théâtre de la première soirée Electroland ! Nous étions conviés à l'événement et nous vous proposons sans plus attendre de revivre la fête à travers notre article spécial !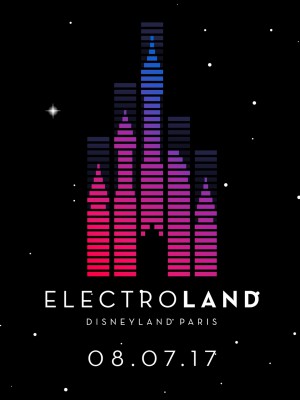 Contrairement à la Summer Break Party, l'accès à la soirée se faisait via un billet spécial, vendu au prix de 68€ pour une place standard (34 à 47€ pour les détenteurs d'un passeport annuel) et 85€ pour un billet privilège. Ce dernier, en plus de la soirée, proposait un accès anticipé aux deux parcs dès 16h ainsi qu'une zone « VIP » pour le concert, pour avoir le meilleur angle de vue sur la scène, ainsi que l'accès à un bar réservé.

A l'affiche de cette première édition d'Electroland, nous retrouvions les artistes Michael Calfan, Richard Orlinski et surtout NERVO et Steve Aoki qui se sont tous produits sur la scène des Walt Disney Studios !

Une fois nos bracelets récupérés et nos programmes analysés, nous avons pu directement nous rendre devant la grande scène de la Season of the Force, ré-aménagée pour l'occasion avec de nombreux écrans ainsi qu'un imposant dispositif d'effets scéniques et une batterie supplémentaire d'éclairages pour pouvoir se permettre toutes les folies de mise en scène !

Très vite les premiers artistes ont pris possession des lieux et l'ambiance a directement été posée, pour la plus grande joie de public qui est déjà très participatif dès ces premières minutes de l'événement.

Beaucoup de visiteurs profitent de ce début de soirée pour faire le tour des attractions ouvertes. De ce côté, c'est presque l'intégralité de l'offre des Walt Disney Studios qui était accessible avec Cars Quatre Roues Rallye, Crush's Coaster, Ratatouille : l'Aventure Totalement Toquée de Rémy, Les Tapis Volants, La Tour de la Terreur, Toy Soldiers Parachute Drop, Slinky Dog Zigzag Spin, RC Racer ainsi que Rock 'n' Roller Coaster (belle alternative à l'électro au passage !). Les temps d'attente ne dépassaient pas les 20 minutes, un vrai bonheur !

Comme toute bonne soirée qui se respecte, Electroland disposait de trois zones « bar », dont une réservée aux billets « privilège ». De ce côté, nous avons hélas retrouvé les mêmes problèmes que lors de la Summer Break Party avec une perte de temps une nouvelle fois assez conséquente pour obtenir le moindre verre.

Un système de coupons « Soft » (3€) ou « Bière » (5€) a été mis en place. Ceux-ci devaient être achetés dans Studio 1 pour ensuite être dépensés aux bars (dépourvus de caisses, à l'exception du « VIP »), obligeant à faire deux fois la queue pour une consommation.
Au delà de la perte de temps ainsi causée, deux autres soucis sont venus contrarier la soirée dans la gestion des bars, avec une rupture de stock des coupons « bière » moins de deux heures après le début de l'événement, obligeant les Cast Members à faire des tickets à la main (pas très optimal pour la gestion du temps pour le coup encore). Cette première rupture a été suivie par une rupture pure et simple de la bière près d'une heure avant la fin de l'événement. Les tickets achetés au préalable pouvaient alors être échangés au final au restaurant « En Coulisses », c'est du moins ce qui a été dit à tous les bars… mais pas à l'équipe du restaurant qui a découvert le plan B à l'arrivée massive de visiteurs en possession de coupons. Problème de communication qui a encore une fois causé une perte de temps, passé à naviguer entre les différents points de vente au lieu de profiter de la scène.

Troisième soirée et troisième échec sur ce point, avec en plus cette année un vrai problème de quantité, totalement sous-dimensionnée pour un événement de ce type.


Mais heureusement, ceci était le seul gros défaut de la soirée. Le reste étant globalement au dessus de la Summer Break Party, à l'image de l'habillage de la Tour de la Terreur dès la nuit tombée, tout simplement sublime !
Le concept art de la soirée nous laissait penser à l'utilisation du mapping, et ce fut le cas, avec de nombreux effets inédits ! La Tour de la Terreur faisait ainsi intégralement partie de la scène. A re-découvrir d'urgence en vidéo en fin d'article !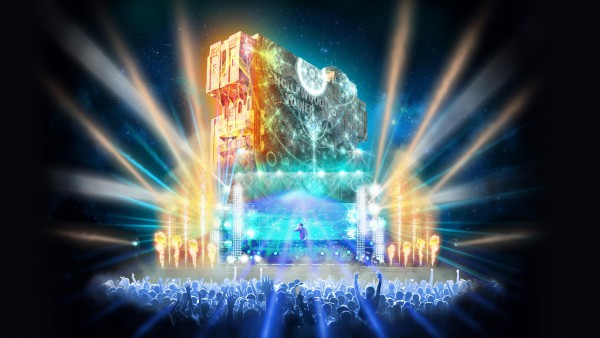 A la nuit tombée, c'est la tête d'affiche, Steve Aoki qui a pris le contrôle de la soirée, électrisant littéralement la foule ! Musique très rythmée mais au style variant selon les morceaux, un vrai sens de la communication avec le public et une débauche d'effets ont fait de ce dernier set un moment très fort, même pour un public néophyte comme nous l'étions ici !

Pour vous donner une idée de l'ambiance et de la mise en scène de cette soirée, nous vous invitons à plonger un quart d'heure au cœur d'Electroland à travers notre vidéo :

Vous l'aurez compris, à l'exception de la gestion du bar, nous avons été conquis par ce premier rendez-vous d'Electroland, l'organisation de la partie concert que ce soit par la programmation ou par la mise en scène enterre complètement la Summer Break Party, qui fait vraiment maintenant figure de brouillon. L'ambiance était vraiment plaisante et le public venu nombreux n'a eu aucun mal à entrer dans la danse… créant une énergie positive et communicative.
A tel point qu'on est par contre un peu déçus de ne pas pouvoir faire la fête aussi tard que l'année dernière. Une fin à 2h du matin serait un bon compromis, surtout pour une soirée à ce prix. Le retour d'une opportunité photo serait également un plus, pour pouvoir immortaliser ce bon moment !

Cette première édition reste un succès, à tel point que le rendez-vous est déjà pris pour une nouvelle édition l'année prochaine ! Nous sommes de notre côté suffisamment convaincus pour déjà le noter sur nos agenda !