Nous sommes mardi, et après un long mois d'absence, c'est le retour de la Gazette, qui est exceptionnellement coupée en deux parties. Alors que les vacances d'hiver viennent juste de commencer, et que la région parisienne sort d'une grosse vague de neige qui n'avait pas été vue depuis au moins cinq ans, l'avenir de Disneyland Paris continue lentement à se mettre en place. Au programme de la première partie de ce (double)numéro, l'évolution des différents chantiers, depuis les gares routières et RER de Chessy à la rénovation de Phantom Manor, en passant par les différentes petites rénovations en cours sur le Parc Disneyland, sous oublier quelques images souvenir de cette semaine passée sous la poudreuse. Alors, laissez-vous donc guider entre chantiers et futures nouveautés.

Notre excursion débute sur l'avenue Robert Schuman, la voie reliant les hôtels du Val de France jusqu'à l'avenue Paul Séramy, et correspondant prou à l'un des rayons du grand circulaire entourant la destination touristique. En effet, depuis quelques semaines, des barrières et panneaux de chantier sont apparus de part et d'autre de l'avenue sur son tronçon central, entre l'ouvrage d'art franchissant le bras reliant le Lac Disney à la Marina, et le pont passant au-dessus de la route d'accès au parking du parc. Comme prévu à la Phase IV du développement du Secteur 4 de Marne-la-Vallée, il s'agit ici de procéder au doublement de cette section, avec notamment la création d'un giratoire entre les avenues Schuman et Goscinny, afin de fluidifier le trafic automobile, notamment dans l'optique de l'arrivée future d'un nouvel hôtel Disney face au Santa Fe, mais aussi avec le début de développement voisin de la ZAC des Trois Ormes. Mais avant de voir la disparition de l'interminable feu tricolore permettant de rejoindre la gare de Marne-la-Vallée Chessy, il vous faudra être patient, car les travaux devraient durer jusqu'à la fin de cette année 2018.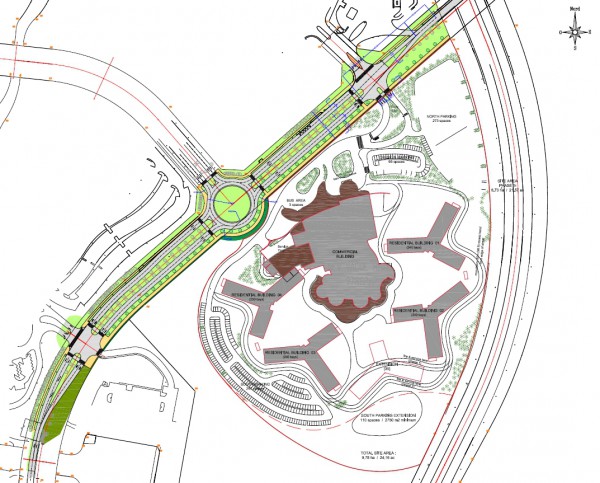 Remontons justement l'avenue René Goscinny pour rejoindre la Gare Routière Nord de Marne-la-Vallée Chessy, où les travaux de refonte/extension sont quasiment achevés sur le futur local de repos des chauffeurs de bus. Il ne reste en effet plus qu'à procéder aux aménagements intérieurs mobiliers pour que ce bâtiment soit opérationnel. Au niveau du quai central de la gare routière, quelques travaux de finition restent à effectuer sur les bardages de protection de la nouvelle marquise. Enfin, à l'extrémité de la gare, un parking à vélos est en train de voir le jour. Il ne s'agit pour autant pas encore de la station Véligo, mais bien d'un aménagement à côté, qui devrait permettre aux habitants des alentours de stationner plus facilement leur deux-roues, lorsqu'ils viennent faire un tour du côté de Disneyland Paris.


De l'autre côté de l'Esplanade François Truffaut, les travaux de création de la Gare Routière Sud de Marne-la-Vallée Chessy semblent comme pris par la neige et le froid, et ne semblent donc pas avoir beaucoup évolué. Nous pouvons noter toutefois l'avancée du chantier sur la création du local de repos des chauffeurs de bus. Enfin, les feux tricolores installés sur le giratoire terminal de l'avenue Séramy, servant pour partie de gare routière sud provisoire depuis déjà quelques mois, sont désormais opérationnels, facilitant ainsi la gestion des flux entre automobilistes se rendant au parking Indigo du Disney Village, et bus s'arrêtant à la Gare Routière Sud.


Juste à côté, les travaux de création de l'Accès Sud à la gare RER de Marne-la-Vallée-Chessy se poursuivent eux aussi, mais cette fois à l'abri des regards indiscrets. Outre le fait que l'essentiel des travaux se déroule sous la dalle dans la prolongation du quai de la gare RER, la structure d'acier servant à acheminer les matériaux entre l'extérieur et l'intérieur de la dalle a été partiellement bâchée, afin qu'ils soient moins visibles depuis l'espace Disney, mais aussi protégés des intempéries, le trou étant réalisé dans la dite dalle, et le chantier se déroulant en dessous.


Dans la prolongation de la gare RER de Marne-la-Vallée Chessy, les travaux d'agrandissement de l'arrière-gare sont passés à une nouvelle étape. Après l'achèvement de la plateforme devant supporter les quatre voies prolongées en fin d'année dernière, c'est à présent au tour de la partie technique d'entrer en scène, avec la pose des différents réseaux nécessaires au bon fonctionnement des systèmes ferroviaires.


Non loin de là, nous passons enfin les grilles du Parc Disneyland, mais côté coulisses, avec la construction du bâtiment Nala qui se poursuit avec l'achèvement progressif de son habillage extérieur. Pour rappel, le bâtiment Nala sera le nouveau vaisseau amiral de la division spectacle de Disneyland Paris, côté Parc Disneyland, et permettra de regrouper l'ensemble des activités d'entertainement (vestiaires et salles de répétition, costuming spectacle, ateliers de couture, bureaux des créatifs) en un seul et même endroit, et libérer ainsi de la place dans les bâtiments alentour pour la bonne réalisation du projet DLP2020, alias le projet de modernisation et rationalisation des coulisses du complexe, entamé depuis déjà quelques années, et qui devrait s'achever dans deux ans.


Nous restons dans le domaine du spectacle, mais cette fois côté visiteurs, ou presque, avec le début de déconstruction du Chaparral Theater. Après quelques semaines où les alentours de la salle étaient encore accessibles, et permettaient d'observer le démontage du décor de Chantons La Reine des Neiges, toute la zone de Cottonwood Creek Ranch est à présent inaccessible, aussi bien à pied qu'avec le Disneyland Railroad. Pour observer la destruction du Chaparral Theater, il vous faudra donc emprunter le train qui fait le tour du parc. Et il en sera de même lorsque la salle qui le remplacera commencera à voir le jour. Mais nous avons encore le temps, le permis de construire n'ayant pas encore été déposé, et une durée de 18 mois de fermeture ayant été annoncée aux équipes qui empruntaient jusqu'à présent l'accès Frontierland pour rejoindre leur lieu de travail.


Profitons d'être dans les parages pour évoquer l'épave du Mark Twain. Celui qui faisait autrefois la fierté de Frontierland n'est désormais plus que l'ombre de lui-même, et continue de pourrir à l'ombre de tous en cale sèche… même s'il arrive parfois de le voir au loin, voire même amarré directement à son quai, tel un vaisseau fantôme laissant débarquer ses passagers vers le manoir hanté des Ravenswood, lorsque le Molly Brown entre en rénovation, comme depuis le début du mois de janvier. Au regard de son état (moteur hors-service, balustrades totalement pourries, partie de la coque qui se désagrège, structure générale bouffée par la rouille), le steamboat est clairement irrécupérable, même avec une lourde rénovation.


Mais revenons à des choses un peu plus positives, à commencer par les travaux d'extension du garage de l'attraction Big Thunder Mountain, qui touchent enfin à leur fin avec la mise en place du bardage en bois thématisé en façade extérieure du bâtiment. Pour rappel, il s'agissait ici d'agrandir légèrement la zone de stockage des pièces de rechange de l'attraction, afin de faciliter son entretient courant par la maintenance.


Bien évidemment, la plus grosse des réhabilitations en cours sur le Parc Disneyland reste celle de Phantom Manor et de toute sa zone. L'accès à cette dernière se limite désormais à l'entrée du Silver Spur Steakhouse, avec la mise en place d'une palissade thématisée, sur laquelle de nombreuses affiches faisant référence à l'attraction et à son histoire ont été placardées.
Concernant l'attraction en elle-même, après un peu plus d'un mois de fermeture, les échafaudages ont enfin atteint le sommet du manoir, qui devrait donc profiter d'une cure de jouvence bien méritée, à l'abri derrière une bâche, qui sera sans doute thématisée. De façon plus générale, c'est l'ensemble des extérieurs de la zone qui sera rénové. Enfin, concernant l'intérieur, c'est toujours le plus grand des mystères sur le contenu exact de la réhabilitation. Rendez-vous donc au quatrième trimestre de cette année pour avoir des réponses concrètes, même si des informations devraient probablement arriver avant la réouverture de l'attraction, à l'image de ce qui s'est passé l'année dernière avec la rénovation de Pirates of the Caribbean.


À Adventureland, la rénovation des accès au pont suspendu d'Adventure Isle se poursuit encore et toujours à la vitesse de la tortue. Mais alors que celle-ci approchait de sa fin côté Cabane des Robinson, voilà que côté cavernes de Davy Jones, les échafaudages se sont multipliés sur les hauteurs. Faut-il donc s'attendre à une fin de rénovation des rochers extérieurs de cette partie d'Adventure Isle, qui en dehors d'un entretien de la végétation, avait été royalement ignorée par la réhabilitation de 2016 ?


Dans le fond de Fantasyland, la réhabilitation annuelle du complexe Pays des Contes de Fées / Casey Jr. – Le Petit Train du Cirque se poursuit là aussi à l'abri des regards indiscrets, seul un passage par le Disneyland Railroad permettant de voir de quoi il en retourne. Comme vous pouvez le constater, le canal du Pays des Contes de Fée a été vidé, et les bateaux de l'attraction évacués en coulisses. Au programme de cette fermeture, la poursuite de la rénovation entamée l'année dernière, notamment en matière d'éclairage de la zone.


À Discoveryland, c'est du côté de Videopolis qu'il y a quelques petites évolutions. Si pour le moment, la Jedi Training Academy ne semble pas prête à reprendre ses cours, de nouvelles enseignes aux couleurs de la salle de spectacle du Café Hypérion ont ainsi fait leur apparition en façade du bâtiment, en complément du totem lumineux présent depuis l'ouverture, et permettant ainsi de faciliter l'identification des lieux pour les visiteurs occasionnels à la recherche du Videopolis Théâtre.


Sur Main Street U.S.A., Casey's Corner, le spécialiste des hot-dogs, profite de la basse saison pour rénover les marquises en bois de sa façade. À noter que l'enseigne du point de vente au comptoir est également partie en réhabilitation

Un peu plus loin sur Main Street U.S.A., l'ancien locataire de Storybook Store, le marchand de livres du parc, a retrouvé sa place à l'entrée de la boutique. En effet, après avoir été le repère de Duffy l'Ourson pendant un temps, le point de vente a retrouvé son automate de Tigrou derrière la caisse. Changement provisoire, le temps d'entretenir l'automate de Duffy, ou rétropédalage vis-à-vis du personnage qui n'a jamais su s'imposer à Disneyland Paris ? Seul l'avenir nous le dira.


Avant de vous quitter provisoirement, nous ne pouvions vous laisser sans quelques photos de Disneyland Paris sous la neige. En effet, entre lundi matin et samedi, la région parisienne a connu un épisode hivernal rude, qui a entièrement recouvert le paysage d'un lourd manteau blanc pendant plusieurs jours; un phénomène qui ne s'était pas reproduit aussi abondamment depuis les épisodes neigeux de début 2013, il y a déjà cinq ans. Nous vous laissons donc constater le résultat en images ci-dessous, des premières chutes de neige, à la tempête de mardi-mercredi, en passant par le retour du Soleil ce samedi.


La première partie de ce (double)numéro de la Gazette s'achève ici. Rendez-vous demain pour la suite des aventures, en relation avec la Marvelisation de Disneyland Paris.