Alors que la construction des futurs lands Star Wars Galaxy's Edge se poursuit à Disneyland et Walt Disney World, nous connaissons désormais les tenues que porteront les Cast Members dans les différents lieux de la planète Batuu.
Une fois de plus, Disney apporte une cohérence entre la storyline du lieu et ses employés, car en fonction de leur affectation, ces-derniers arboreront plusieurs tenues différentes.
Tout d'abord, ceux destinés à intervenir dans le village de Black Spire Outpost porteront les vêtements ci-dessous :
Côté restauration, les futurs Cast Members destinés aux points de vente et autres cantinas seront vêtus de la sorte :
Les deux attractions prévues auront également leur propre dress code, avec comme tenues pour Rise of The Resistance ces modèles, en fonction du camp choisi, la Résistance ou le Premier Ordre :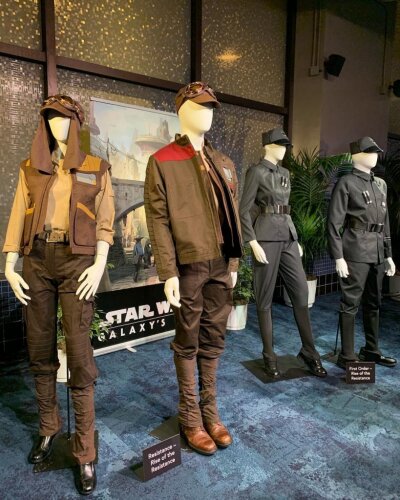 Et ceux-ci pour l'autre ride Smugglers Run :
Il est à noter également un "name tag" spécial (la célèbre étiquette portant le prénom de l'employé, symbole des parcs Disney), arborant la traduction en langage Aurebesh, alphabet fictif de l'univers de George Lucas.
Star Wars Galaxy's Edge ouvrira cet été en Californie, en fin d'année en Floride, et dans quelques années à Paris !