Au début du mois de juillet 2016, Disneyland Paris lançait son tout nouveau spectacle, Mickey & le Magicien, en remplacement d'Animagique, le show en lumière noire joué depuis l'ouverture des Walt Disney Studios en 2002. Après six mois de travaux, nous retrouvons donc la salle du Studio 3, devenue Animagique Theater, transformée en atelier parisien appartenant à un mystérieux magicien. Pour découvrir ce qui se dissimule dans l'ombre de ce surprenant grenier aux mille objets enchantés, nous vous proposons de nous suivre à la découverte de ce nouveau spectacle.

Avant de nous intéresser à ce qui se cache derrière le rideau, un petit tour par l'extérieur du Studio 3 s'impose. En effet, différents travaux ont eu lieu ces six derniers mois, et même bien en amont. Cela avait commencé par la façade du bâtiment qui avait retrouvé sa couleur jaune afin de mieux s'harmoniser avec Studio 1. Puis, durant les travaux de création du spectacle, c'est l'ensemble de la zone d'attente couverte ainsi que les abords de la salle, qui avaient eu droit à une petite rénovation de sol, sans compter le remplacement de l'enseigne, comme nous vous l'avions signalé dans nos précédents numéros de la Gazette. Au final, nous avons un nouvel extérieur du bâtiment neuf et plutôt sobre, qui va bien avec l'esprit « Toon Studio », mais encore une fois, la rénovation des sols conduit à une multiplication du patchwork des sols, avec des raccords en enrobé pas forcément du meilleur goût. Il ne reste plus qu'à espérer une rénovation rapide de l'ensemble des sols de la zone Toon Studio, afin d'uniformiser un peu l'ensemble de la zone.
À l'intérieur de la salle, pas de gros changements à signaler du côté des gradins. C'est du côté de la scène que le travail s'est fait, avec pour commencer, la mise en place d'un véritable contour de scène rappelant les théâtres d'autrefois et faisant écho à la salle jumelle, Cinémagique. Le mur marquant la séparation entre la scène et la salle a également eu droit à quelques ajustements, avec l'installation d'un véritable fond étoilé, accentuant ainsi le côté nocturne de l'ambiance du spectacle.
Après cette petite présentation des lieux, il est temps de rentrer dans le vif du sujet, à savoir le spectacle en lui-même. L'action se déroule donc principalement dans l'atelier parisien, situé sous les toitures, d'un mystérieux magicien. À l'image des personnages de la Forêt de l'Enchantement, le Magicien est une création originale du spectacle. Alors que celui-ci réveille petit à petit son atelier avec l'aide de la Fée Clochette, il est rejoint par un Mickey Mouse tout en mouvement. En effet, l'une des particularités de ce spectacle, c'est d'introduire enfin à Disneyland Paris la tête parlante de Mickey. La célèbre souris prend ainsi vie de manière bien plus efficace, à l'aide de mouvements de bouche et de clignements d'yeux. Mickey est là pour une mission particulière : il doit nettoyer et ranger l'atelier du Magicien avant le coucher de la Lune. En récompense, le mystérieux homme lui apprendra les secrets pour devenir un vrai magicien. Mickey se retrouve donc seul dans cette immense pièce remplie d'objets en tout genre, dont notamment un Chapeau Enchanté parlant, qui se moque quelque peu de l'absence de talent de notre bonne souris en matière de Magie.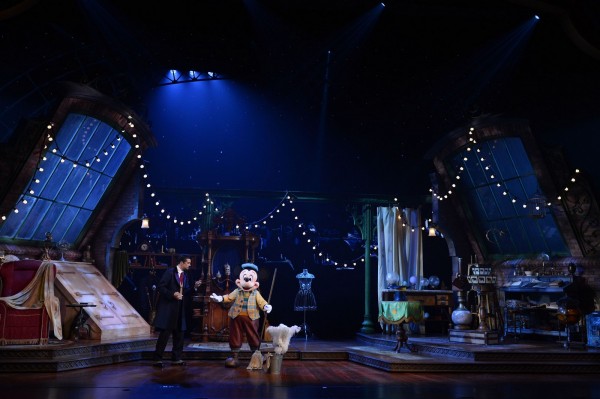 Alors qu'il est en train d'enlever le drap de protection d'un fauteuil de l'atelier, Mickey fait apparaître comme par magie Marraine la Bonne Fée. Ne comprenant pas tout de suite la situation, Mickey explique à son invitée qu'il veut devenir un grand magicien, tandis que le Chapeau Enchanté continue à se moquer de lui. Pour faire taire cet objet moqueur, Marraine la Bonne Fée décide donc d'expliquer à notre bonne souris les fondements de la magie. Et pour cela, il faut une bonne formule magique, dans le style « Bibbidi-Bobbidi-Boo ». Alors que la vieille magicienne se met à entonner sa célèbre chanson, elle se lance dans une démonstration en faisant apparaître successivement sur scène la robe de Cendrillon, puis Cendrillon elle-même, avant que n'arrive le célèbre carrosse-citrouille pour amener notre princesse au bal sur l'air de « A Dream is a Wish Your Heart Makes » (Tendre Rêve en français). La leçon bien apprise par Mickey, Marraine la Bonne Fée disparaît comme par magie, laissant notre souris à son travail dans l'atelier du Magicien.

Cependant, la Lune commence déjà à disparaître, et Mickey reprend donc son ménage. Alors qu'il dépoussière un meuble, il faut glisser un drap de protection qui dissimulait un étrange chandelier qui prend soudainement vie et se met à dialoguer avec notre bonne souris. Il s'agit bien entendu de Lumière, le célèbre maître des fêtes de la Belle & la Bête, qui informe Mickey qu'il va être en retard pour le banquet. C'est alors qu'une multitude de danseurs et danseuses objets débarquent sur scène pour émerveiller notre souris au son de « Be Our Guest » (C'est la Fête en français). Une fois le banquet en place, Belle, accompagnée de la Bête, peut donc arriver sur scène, pour venir valser sur l'air d' « Histoire Éternelle », car la magie vient de l'amour et du cœur.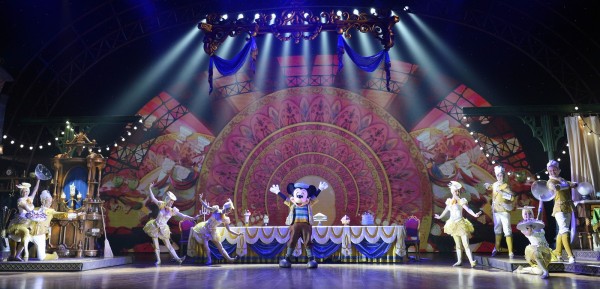 Après cet instant romantique, Mickey se retrouve une nouvelle fois seul dans l'atelier, tandis que la Lune continue toujours à décliner. Il décide alors de prendre une pause, lorsqu'il est dérangé par le Magicien toquant à la porte de l'atelier, et voulant savoir si la mission de Mickey avance bien. Notre souris le rassure et reprend alors sa tâche en s'amusant un peu à la sorcière enfourchant son balai. Alors qu'il file à toute allure, il déclenche par mégarde un zootrope (ou roue de la vie), qui projette sur un rideau blanc les images de divers animaux. Celui-ci s'arrête sur la représentation d'un singe, et alors que Mickey ouvre le rideau, Rafiki apparaît derrière, et invoque les esprits des animaux de la savane au rythme de « Circle of Life » (l'Histoire de la Vie en français). Guépard, Autruches, Girafes, Rhinocéros, et toutes sortes d'oiseaux et d'animaux colorés débarquent alors sur scène et dans la salle, pour apprendre à Mickey que la voie pour devenir un vrai magicien est un chemin long et semé d'embûches, comme peut l'être la vie elle-même, mais un chemin fabuleux à suivre.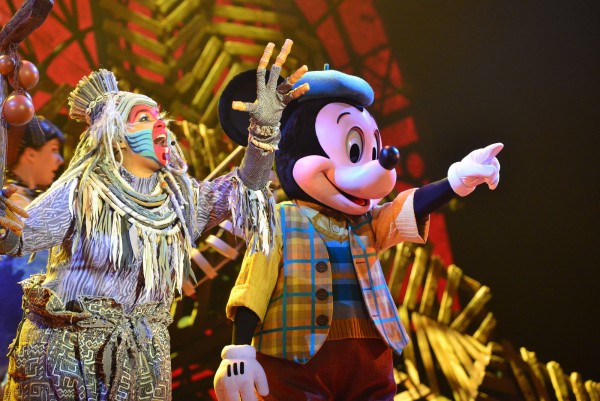 Alors que cette étrange ménagerie quitte la scène, Mickey se lance dans un concours de devinettes de cris d'animaux avec le Chapeau Enchanté. Mais notre souris est bien vite rappelée à l'ordre par la disparition d'une nouvelle partie de la lune. Mickey reprend alors son ménage, et fait tomber une étrange lampe. La croyant d'abord cassée, il constate par la suite que cette lampe a une tâche qu'il faut à tout prix gommer. Mais en faisant cela, notre souris réveille l'esprit qui dormait à l'intérieur et dans un nuage de fumée, le Génie d'Aladdin apparaît. Caché dans sa lampe depuis le début, Génie sait donc déjà que Mickey veut devenir un vrai magicien, et il lui propose pour cela une petite démonstration sur l'air de « Friend Like Me » (Je suis ton Meilleur Ami en français). Après sa démonstration, la leçon peut commencer, avec l'aide de ses assistants et assistantes danseurs, Génie et Mickey se lancent dans un numéro de claquettes endiablé digne des plus grands shows de Broadway. Notre souris découvre alors que la meilleure des magies est celle qui rend les autres heureux, tandis que Génie disparaît… avant d'avoir réalisé les souhaits de Mickey.

Dépité, Mickey repart donc à son ménage. Tandis qu'il dépoussière une boule à neige, de la poudre blanche s'échappe alors de l'objet, et fait apparaître un étrange bonhomme de neige très bavard. Vous aurez bien sûr reconnu Olaf, à qui Mickey expose son souhait de devenir Magicien. Olaf rentre alors dans un monologue comique où il déclare préférer la magie, puis l'été. Notre souris se pose des questions sur la magie qui a pu donner vie à Olaf, lorsqu'Elsa apparaît sur scène dans sa robe de couronnement. Elle apprend alors à Mickey que la magie réside en chacun de nous, et qu'il suffit d'avoir le courage de la partager avec ceux que l'on aime pour enfin la maîtriser pleinement. La dirigeante d'Arendelle entonne alors son célèbre « Let It Go » (Libérée, Délivrée en français), durant lequel elle libérera toute sa puissance magique et se transformera littéralement parlant en La Reine des Neiges.

Habité par l'esprit de « Libérée, Délivrée », Mickey retrouve alors l'atelier du Magicien, et réussit enfin à enchanter son balai pour que celui-ci fasse le ménage à sa place. Cependant, comme vous le savez déjà depuis Fantasia, Mickey et les balais enchantés font rarement bon ménage. Aussi, notre souris se retrouve bien dépourvu lorsque ses nouveaux pouvoirs magiques semblent échapper à son contrôle, et détruisent partiellement l'atelier du Magicien, tandis que la lune disparaît complètement du ciel.
Totalement déprimé, Mickey fond en larmes, tandis que le Magicien fait son retour dans l'atelier. Il demande alors à Mickey ce qui s'est passé, et Mickey explique alors qu'il a perdu le contrôle, et s'excuse de ne pas être assez bon pour devenir un vrai magicien. Plein de bonté, le Magicien demande alors à Mickey de se rappeler les conseils des différents amis magiques qu'il a croisés, et lui rappelle qu'un vrai magicien tient toujours ses promesses. Il lui prête alors sa baguette magique, et Mickey peut ainsi réparer petit à petit les dégâts causés à l'atelier.
Le test final est alors arrivé pour notre souris, qui se place à côté du Chapeau Enchanté, arrive à le faire léviter, et prend place sur sa tête. Alors que « Let the Magic Shine / La Magie Brille en Toi », la chanson exclusivement composée pour le spectacle, se met à raisonner, les différents magiciens et amis magiques que Mickey a rencontrés font leur apparition sur scène pour féliciter notre apprenti d'être devenu un vrai magicien. Mickey fait alors léviter le Magicien, puis le fait disparaître et réapparaître sur la Lune magique qui a retrouvé sa place dans le ciel, avant que le spectacle ne s'achève dans une explosion finale de cotillons et que tout ce beau monde disparaisse dans la nuit étoilée.

Vous l'aurez donc compris, Mickey & le Magicien est un spectacle dans la plus pure tradition des grands shows Disney. De fait, il s'inspire très largement des grands spectacles récents du groupe, tel que Mickey and the Magical Map (Californie) ou Mickey and the Wondrous Book (Hong-Kong), ce qui est tout à fait logique, puisque ces trois spectacles partagent la même directrice artistique, Sylvia Hase. Pour Mickey & le Magicien, Katy Harris (directrice des spectacles de Disneyland Paris) et Louisa Kriouche (metteur en scène associée du spectacle) sont venues compléter l'équipe créatrice.
Mickey & le Magicien est donc une véritable comédie musicale dans le plus pur esprit Broadway, avec chants en live, danses, numéros de claquette, costumes magnifiques et personnages Disney. Cette analogie avec Broadway, elle transparaît très largement à travers la séquence du Roi Lion et celle d'Aladdin, dont la mise en scène, les costumes et l'orchestration musicale, sont très très largement inspirés des comédies musicales Disney qui ont été montées un peu partout sur les grandes scènes mondiales. Ces deux scènes sont très certainement les deux meilleures du spectacle, avec de la poésie, de l'émotion, de l'énergie, et des artistes qui en envoient vraiment, à l'américaine.
Mais Mickey & le Magicien, c'est aussi un spectacle de magie, dans la tradition des shows d'illusionnisme des cabarets d'antan. De fait, un énorme travail a été réalisé sur les jeux de lumières et sur les ombres, clairement du jamais vu à ce jour à Disneyland Paris.
Pour vous faire un avis plus précis sur le spectacle, n'hésitez pas à regarder notre vidéo du show.
Même s'il a encore besoin d'être rodé, et peut-être d'améliorer certaines séquences plus faibles que d'autres (notamment du côté du tableau « Be Our Guest », qui reste très loin de sa version broadwaysienne), Mickey & le Magicien est très clairement un grand spectacle tel que Disneyland Paris n'en avait pas connu depuis un très très long moment. Le spectacle comble très largement le vide laissé par Animagique, et surpasse de très loin ce show qui était devenu désuet et peut-être trop enfantin pour un public plus adulte.
Le seul réel reproche qu'on pourrait faire à Mickey & le Magicien, c'est d'avoir, tout comme pour la Forêt de l'Enchantement, privilégié une nouvelle fois des chants en anglais, plutôt qu'en français (2 chansons en français, contre 5 en anglais). Mais cela est rattrapé par les dialogues de Mickey, qui pour le coup sont eux 100 % en français, tandis que les autres personnages s'expriment à moitié dans la langue de Shakespeare, et à moitié dans celle de Molière.
Pour découvrir Mickey et le Magicien, rendez-vous à l'Animagique Theater des Walt Disney Studios de Disneyland Paris. Et dépêchez-vous, car nous n'avez que jusqu'au 8 janvier 2017, avant que la troupe ne profite d'une petite période de relâche en début d'année, et reprenne du service à l'approche du 25ème anniversaire du resort.