1992-2017. En cette année, Disneyland Paris célèbre son 25ème anniversaire. Après de long mois de préparation, que vous avez notamment pu suivre au travers de nos Gazettes, tout est fin prêt pour faire la fête. Après une première partie consacrée aux éléments propres à cette année de célébration, dans cette seconde partie, nous nous attacherons à développer les différentes choses destinées à rester une fois l'anniversaire achevé. Nouvelle parade, attractions repensées, et nouveau spectacle nocturne, tels seront les thèmes abordés dans cette seconde partie de notre présentation des festivités du 25ème anniversaire de Disneyland Paris. Suivez le guide!

Prenons la route de la parade. Avant que celle-ci ne débute, une pré-parade a lieu chaque jour environ 5 minutes avant, et met en scène la Famille d'Honneur du jour, à bord d'une des voitures de feue la Disney Stars'n'Cars des Walt Disney Studios, au son de « Happy Anniversery Disneyland Paris ». Après quelques années d'absence, le concept de la Famille d'Honneur invitée sur la parade fait donc son retour pour le 25ème anniversaire de Disneyland Paris, à l'image de ce que font déjà les parcs Disney américains.

Mais passons au plus important, la toute nouvelle parade introduite à l'occasion des 25 ans du parc, la Disney Stars on Parade. Composée de 8 unités, une multitude de personnages Disney défile donc chaque jour à travers le parc au rythme de « Lost in the Magic » (devenu « Envie de Magie » en français).
La première unité, Découvrez la Magie, s'ouvre avec une foule de personnages divers et variés, allant de Pinocchio à Aladdin en passant par Mary Poppins ou bien encore Tigrou, qui se déhanchent tous sur le thème principal de la parade. Le char de cette unité présente une Clochette qui s'échappe des pages d'un énorme livre de contes aux multiples rouages, tandis qu'à l'arrière, une étonnante lunette astronomique permet à Mickey et ses amis, qui ont revêtu leurs habits d'explorateurs du futur, d'aller explorer l'univers.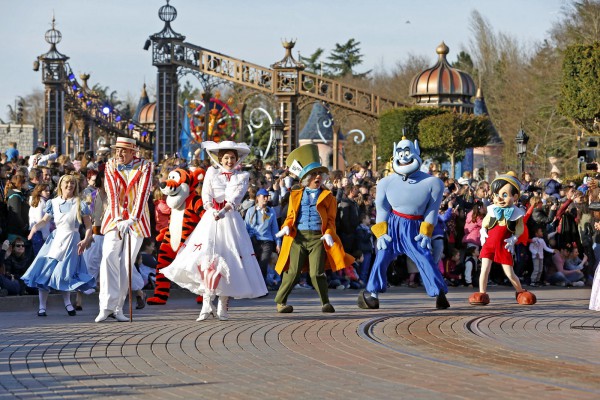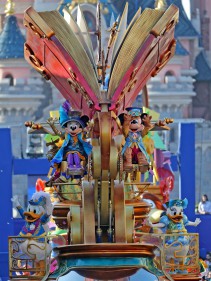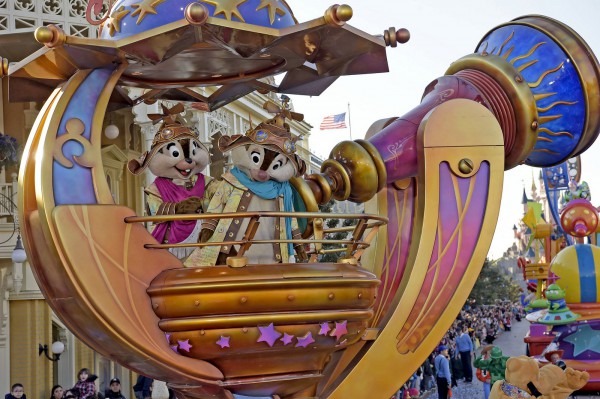 La seconde unité, Découvrez l'Amitié, rend un hommage aux jouets de notre enfance. Tandis que les cow-boys et les cow-girls, accompagnés des petits soldats verts ouvrent la marche, La fusée de Buzz l'Éclair tire un chariot surdimensionné dans lequel Andy a placé tous ses jouets dans un désordre insouciant. Woody et Jessie sont présents sur cet empilement surplombé par une impressionnante roue animée par deux danseuses / rangers de l'espace.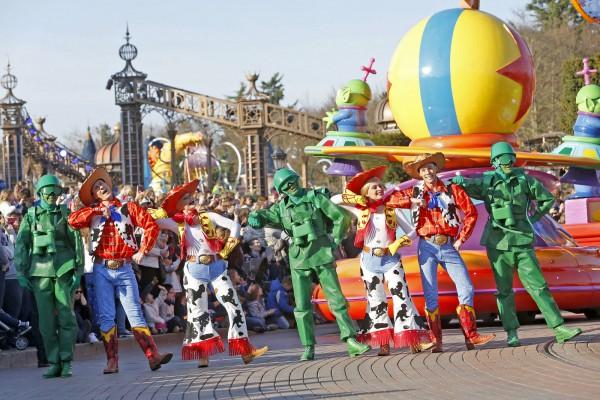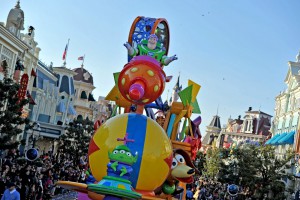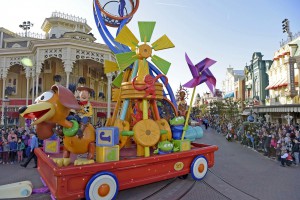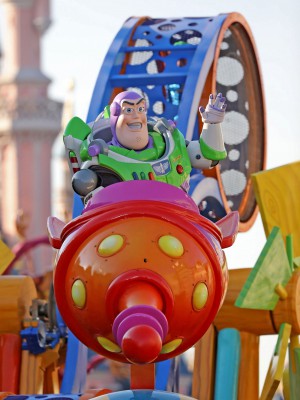 Qui mieux que Simba et Zazu, ou Baloo et Kaa pour incarner l'esprit de la troisième unité, Découvrez l'Aventure? Alors que des danseuses arbres et singes, aux tenues dignes du carnaval de Rio, précèdent le char composé d'un imposant roc qui surplombe la flore de la jungle luxuriante, les percussions et les couleurs chatoyantes libèrent les instincts sauvages d'un monde exotique représenté par Rafiki, Timon, le Roi Louis et Mowgli.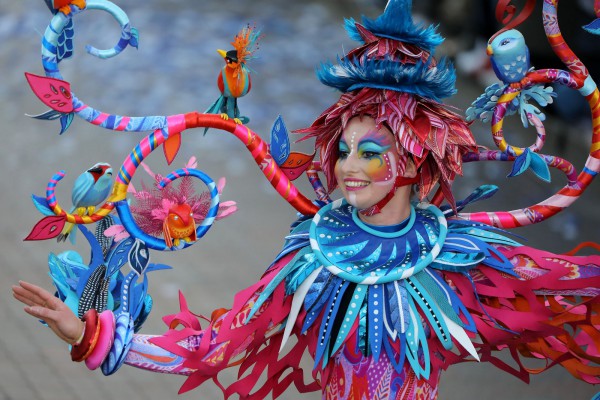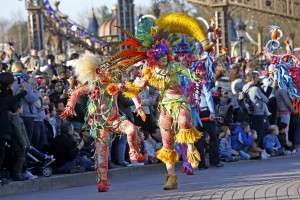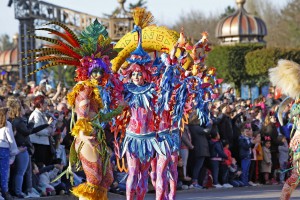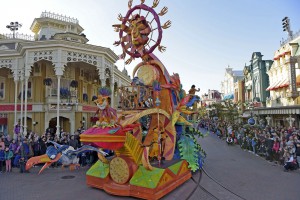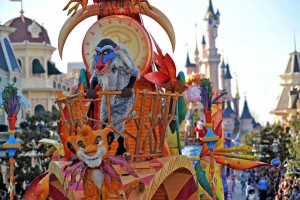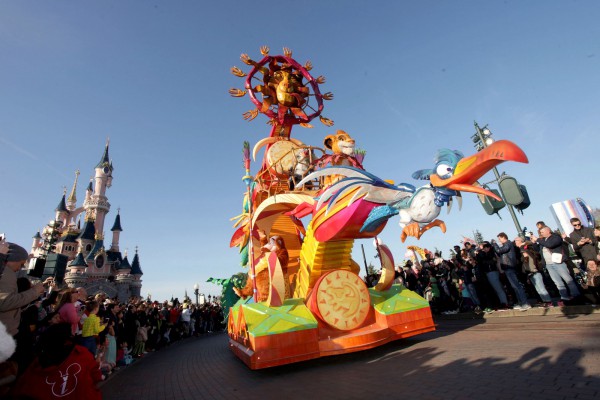 D'un rocher à l'autre, la quatrième unité, Découvrez l'Imagination, nous mène directement au rocher du crâne, servant de trône au Capitaine Crochet, toujours accompagné de son fidèle Monsieur Mouche. Mais Peter Pan est tout près, à la barre d'un navire suspendu sous un immense croissant de lune fantasmagorique. Notre brave héros peut compter sur l'aide de ses amis les enfants perdus, ainsi que sur celle de la douce Wendy Darling.
Avec la cinquième unité, Découvrez un Nouveau Monde, l'immense tortue verte Crush, accompagnée de ses enfants sans Squiz, nage au-dessus d'un récif majestueux, recouvert de coraux. Le char est précédé de Némo, Marin et Dory, qui virevoltent entre des femmes coquillages. Les héros du Monde de Némo et du Monde de Dory nous rappellent ainsi leur philosophie: « Continuez à nager droit devant soi! ».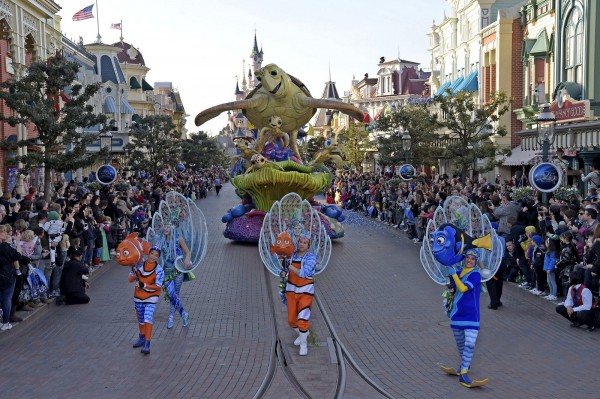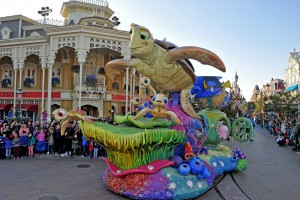 L'ambiance change radicalement avec Découvrez l'Enchantement, sixième unité de cette parade, puisque nous nous retrouvons au cœur de la bataille épique du bien contre le mal, avec le Prince Philippe luttant contre des ronces vivantes commandées par Maléfique sous sa forme de dragon cracheur de feu… Mais un dragon au style steampunk, animé par le rouet de la malédiction lancée par la mauvaise fée sur la Princesse Aurore.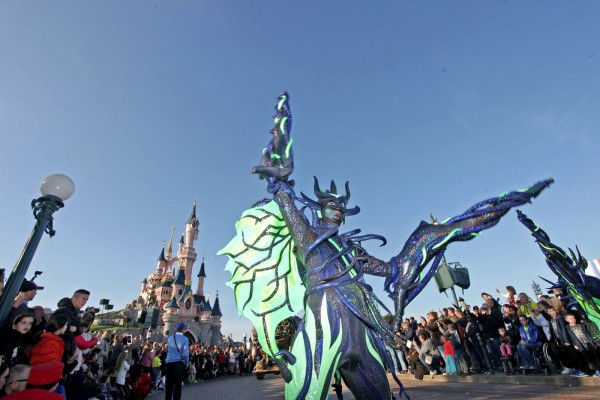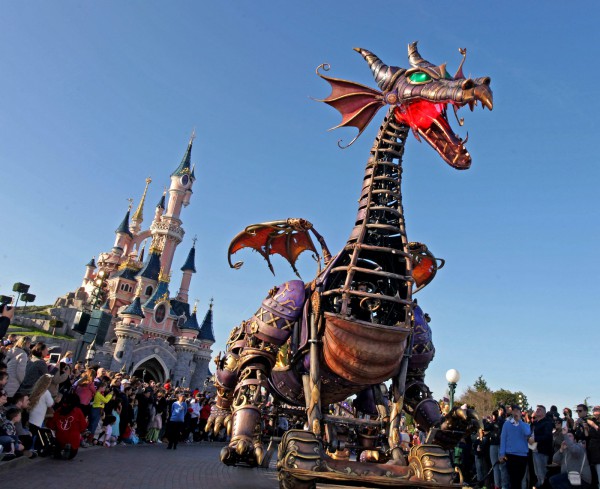 Heureusement, chez Disney, le bien finit toujours par triompher, grâce au pouvoir de l'amour. Avec la septième unité, Découvrez la Romance, vous pourrez retrouver Raiponce, Cendrillon et Blanche-Neige à bord de leur carrosse conduit par leur prince charmant respectif. Celles-ci sont accompagnées à pied par Blanche-Neige, Ariel, et Tiana, elles aussi en charmante compagnie, ainsi que par les trois bonnes fées qui bénissent la Princesse Aurore de leur bienfait.

Enfin, avec la dernière unité, Découvrez le Merveilleux, ce sont les personnages de La Reine des Neiges qui sont à l'honneur. Kristoff ouvre la marche, accompagné de danseuses flocons de neige. Sur le balcon d'un château aux rouages de glace, tracté par un Sven sous forme de jouet à bascule géant, et qui est chevauché par Olaf, Elsa et Anna vous émerveilleront grâce à la magie de l'hiver, en faisant tomber la neige derrière elles.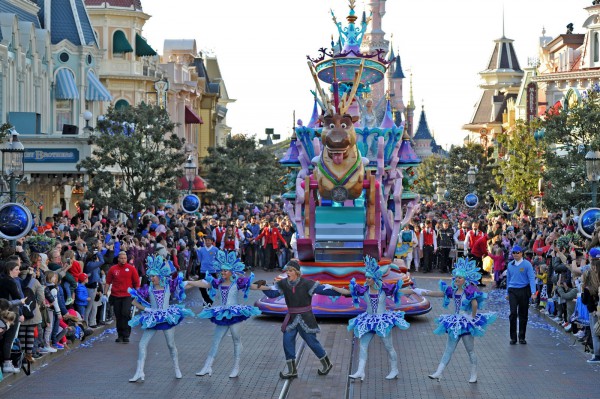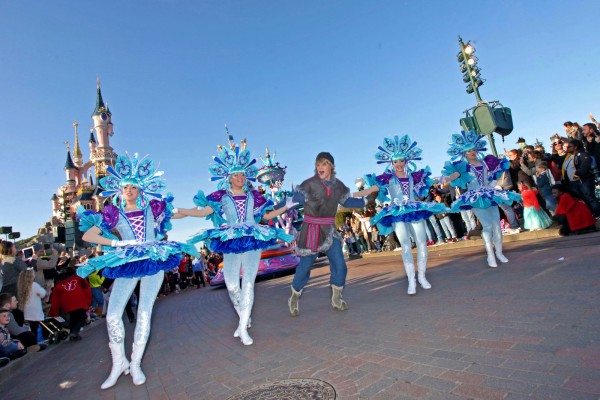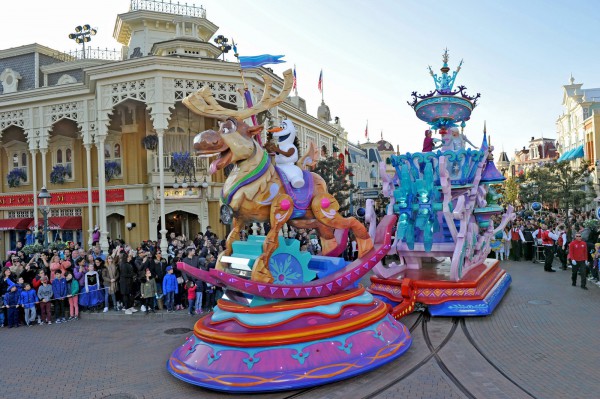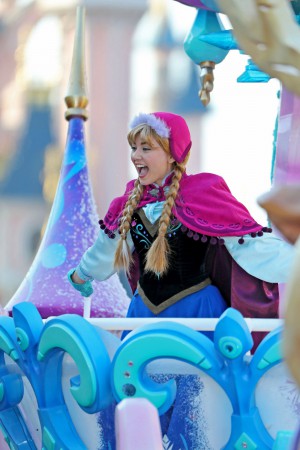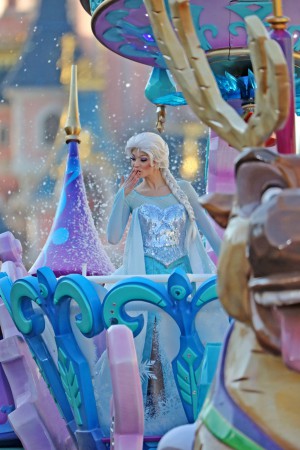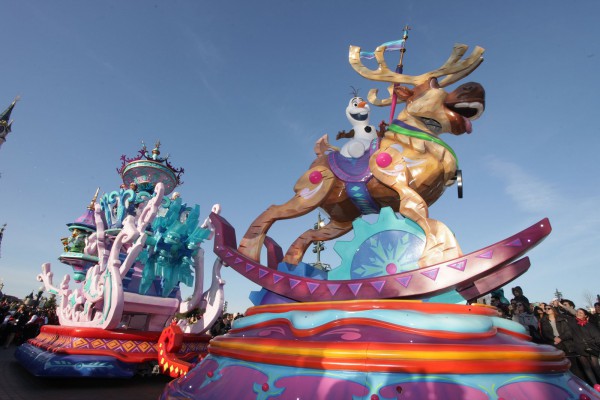 Avec Mickey présente: « Joyeux Anniversaire Disneyland Paris », Disney Stars on Parade constitue l'autre très bonne surprise du programme des nouveautés de ce 25ème anniversaire. Après 5 ans à écouter « Magic Everywhere » en boucle, nous retrouvons enfin une parade proposant une bande audio différente et propre à chaque char. C'est rythmé, c'est dynamique, c'est festif, en somme tout ce que l'on est en droit d'attendre d'une parade Disney aujourd'hui. Malgré quelques petits défauts (usure de certains éléments des deux chars repris de la parade de Tokyo, Dragon qui ne crache pas encore du feu), Disney Stars on Parade constitue un très bon ajout au catalogue général de divertissements proposé par le Parc Disneyland, que nous soyons ou pas en période de célébration d'anniversaire, comme actuellement.

Outre la nouvelle parade et le nouveau spectacle nocturne que nous aborderons ci-après, le 25ème anniversaire est aussi l'occasion pour Disneyland Paris de réinventer ses attractions. C'est notamment le cas de Star Tours – l'Aventure Continue, qui a officiellement rouvert à l'occasion du début de la saison anniversaire, et dont vous pouvez déjà trouver notre retour complet sur notre site. Restent encore à venir le retour de Space Mountain dans sa version Star Wars Hyperspace Mountain: Rebel Mission, prévu pour début mai, et la réouverture de Pirates of the Caribbean version Jack Sparrow à partir de juillet.

Après ce long passage au Parc Disneyland, prenons la direction des Walt Disney Studios, qui bénéficient eux aussi d'une décoration à l'occasion des 25 ans du resort, mais bien plus légère que celle de son grand frère, puisque celle-ci ne se concentre qu'au niveau de l'entrée, sur la Place des Frères Lumière, ainsi que sur les piliers techniques de Toon Studio.
Mais revenons au Parc Disneyland, alors que la nuit commence à tomber. Le 25 mars dernier, jour de lancement des festivités du 25ème anniversaire, Disneyland Paris organisait un petit spectacle avant la grande première de son nouveau spectacle nocturne, Disney Illuminations. Découpé en deux parties, ce petit spectacle était l'occasion de rendre une dernière fois hommage à Disney Dreams, et d'assister à un mini-concert de John Legend, interprète de la nouvelle version du titre «Beauty & the Beast », présent au générique du remake live du grand classique d'animation Disney.

Il est à présent temps de terminer notre tour de présentation des festivités du 25ème anniversaire de Disneyland Paris, avec le nouveau spectacle nocturne, Disney Illuminations. Comme nous l'avions pressenti dans nos derniers numéros de la Gazette, ce nouveau spectacle nocturne pioche très très très largement son inspiration dans son homologue chinois, Ignite the Dream.
Le spectacle s'ouvre sur une introduction où le Château de la Belle au Bois Dormant prend doucement vie, alors que Mickey apparaît, le tout au rythme d'une réorchestration moderne de « A Dream Is a Wish Your Heart Makes ».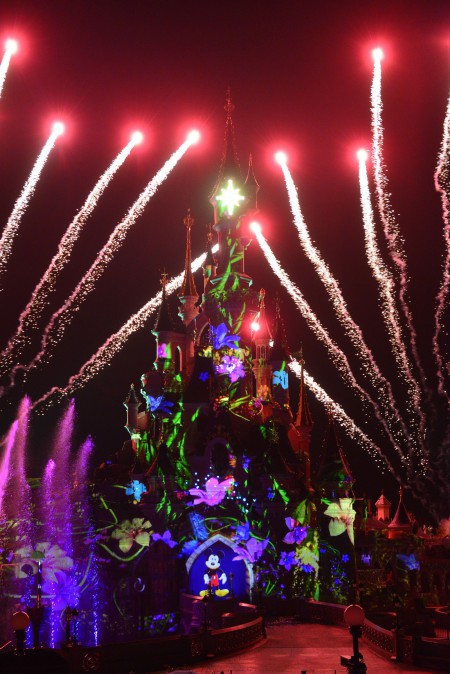 Cette ouverture est suivie d'une longue séquence sur Le Roi Lion, découpée en deux parties distinctes. Dans la première, alors que Mickey soulève le symbole « Lion » dessiné par Rafiki, les premières notes de « Circle of Life » retentissent, et nous assistons alors au baptême du jeune Simba. Puis, après une transition mettant en avant l'esprit de Mufasa, nous enchaînons sur une seconde partie mettant en avant les retrouvailles amoureuses de Simba et Nala sur l'air de « Can You Feel the Love Tonight ».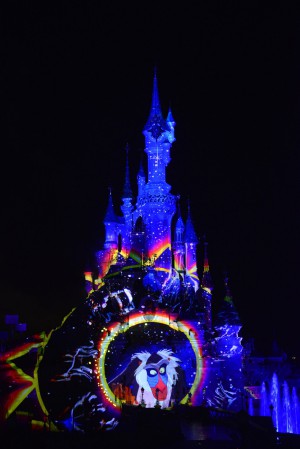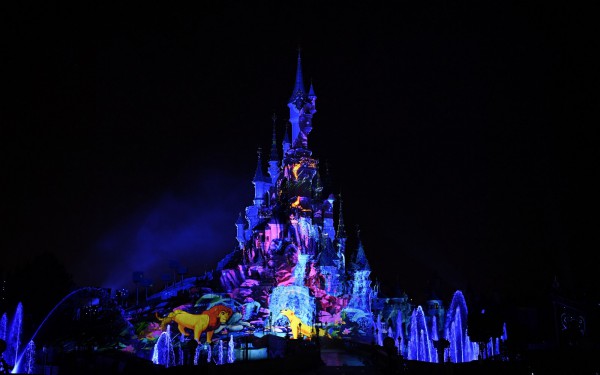 Alors que la séquence du Roi Lion se termine sur une cascade, Mickey plonge alors dans l'eau et descend jusqu'à la grotte d'Ariel, La Petite Sirène, qui entonne son célèbre « Partir là-bas ». Il est toutefois dommage que l'une des seules séquences sauvables de ce spectacle nocturne nous impose un nouveau doublage de la chanson en version française, bien loin de la puissance émotionnelle de Claire Guyot, malgré la magnifique réorchestration issue de World of Color.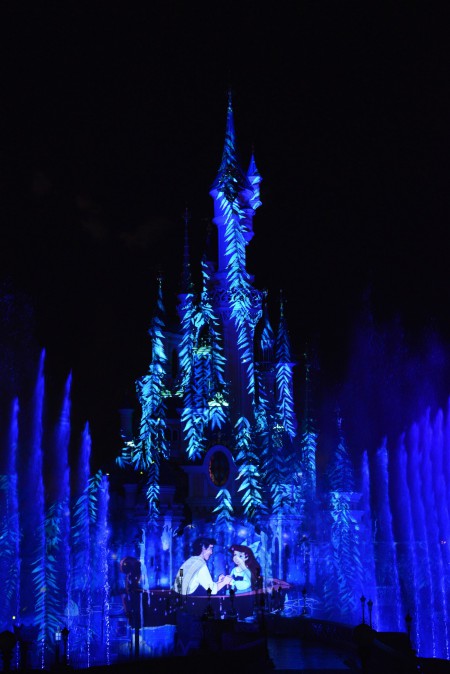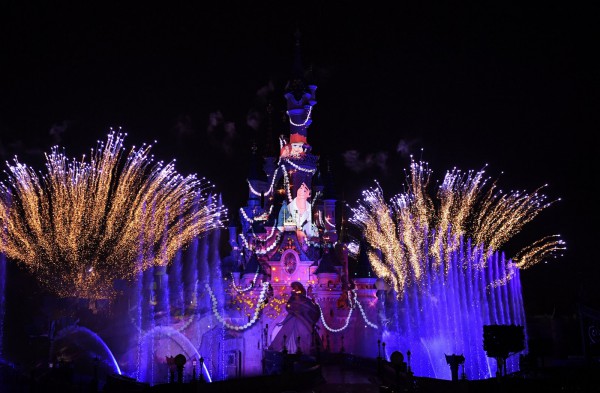 Nous restons quelque temps sous l'océan, avec une séquence de transition mettant en avant les personnages de l'univers des films le Monde de Nemo et le Monde de Dory, avec une première partie plutôt douce et contemplative, et une seconde un peu plus rythmée grâce à Crush et au courant Est-Australien, qui amènent Mickey surfer un peu.

Notre brave souris qui se retrouve une nouvelle fois à l'eau, appelée cette fois par le chant du médaillon maudit de Pirates des Caraïbes. S'ensuit donc une première séquence présentant des films en « live action », où vous pourrez revivre l'attaque du Kraken, la bataille navale finale de Pirates des Caraïbes 3, ou bien encore les différents combats à l'épée qui rythment la célèbre saga, le tout sur la célèbre musique d'Hans Zimmer.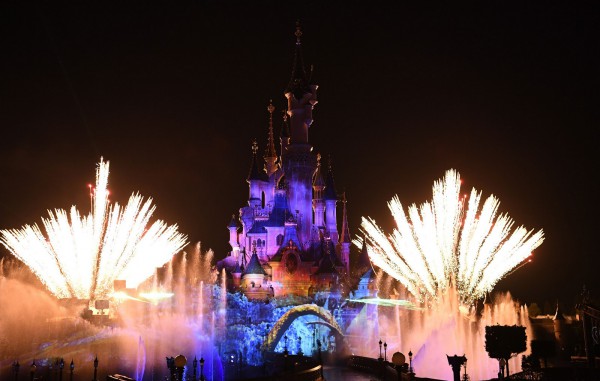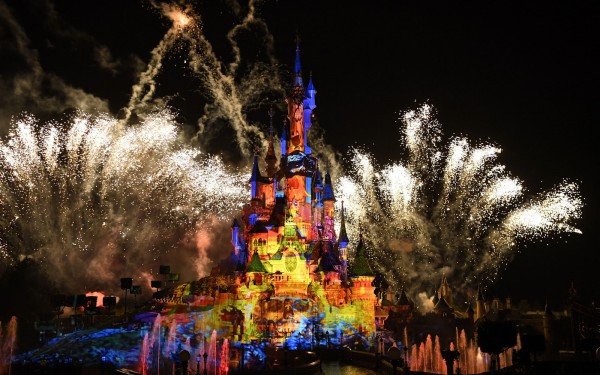 Après les flammes des canons, Mickey se retrouve à affronter le froid de la Malédiction de la Belle & la Bête… mais celle du remake live, pas celle du grand classique. Seule séquence réellement inédite par rapport à la version de Shanghai du spectacle, c'est aussi la séquence la plus pauvre et la plus commerciale du spectacle: pas de pyrotechnie, pas de laser, pas de fontaine… juste du mapping indigeste composé d'extraits des bandes annonces du long-métrage, le tout sur la balade de Céline Dion présente au générique de fin du film, « How Does a Moment Last Forever ».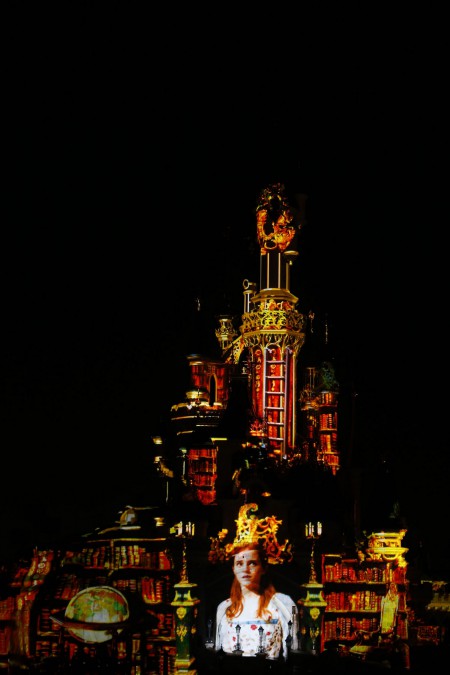 Illuminations continue dans la finesse et le bon goût commercial, en enchaînant sur une séquence Star Wars. Après une transition nous rappelant Là-Haut, où le Château se fait soulever par une montagne de ballons, nous nous retrouvons donc dans l'espace, devant une nouvelle bande annonce, mais cette fois de Star Wars Episode VII, le tout avec un mapping qui devient de plus en plus illisible, notamment dans la séquence « bataille spéciale ». La comparaison avec le spectacle nocturne des Walt Disney Studios « Star Wars – La Célébration Galactique », ne se fait clairement pas en faveur de cette séquence.


Nous restons encore et toujours dans le commercial et le marketing avec une longue séquence sur La Reine des Neiges, car il est désormais impossible de faire un spectacle Disney sans que les deux sœurs n'y soient présentes. Comme pour le Roi Lion, celle-ci se découpe en deux parties. Dans la première, nous avons droit au traditionnel « Libérée, Délivrée », qui a toutefois était retravaillé en matière de mapping, d'effets, et de réorchestration par rapport aux séquences que nous avions connues précédemment sur Disney Dreams Fête Noël ou durant la Fête Givrée. Le résultat est pour le coup réellement réussi sur cette partie, avec notamment un nouvel effet d'aurore boréale sur le haut du Château.
Cela se gâte toutefois sur la seconde partie de la séquence, avec la chanson « Le Renouveau (reprise) » où le mapping devient une nouvelle fois assez illisible. La séquence se termine, alors qu'Anna se retrouve changée en statue de glace en tentant de protéger sa sœur de l'épée de Hans. C'est alors que grâce au pouvoir de l'amour, Elsa réussit à libérer Anna, et tout est bien qui finit bien.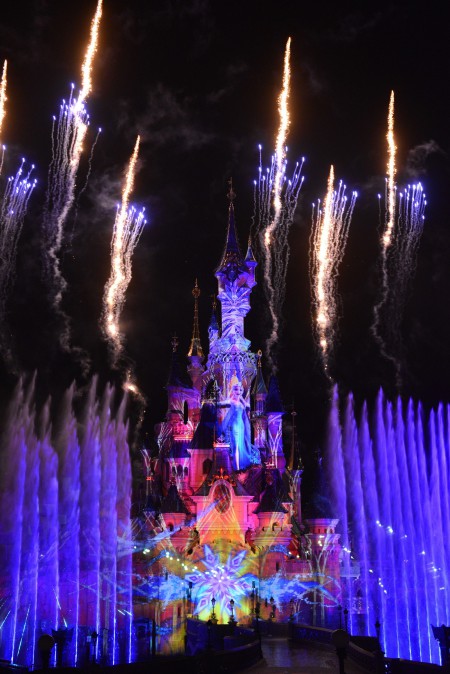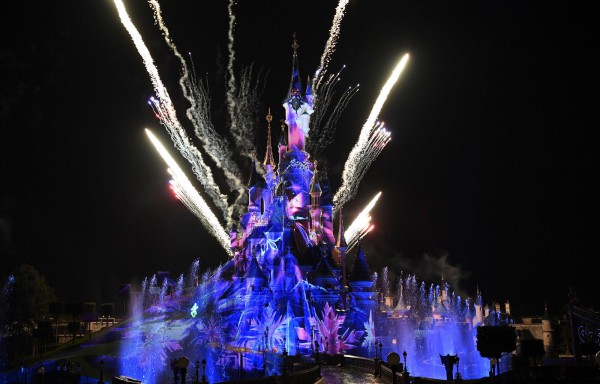 Le final peut alors commencer, avec le retour du Mickey, et un résumé des différentes séquences que vient de nous proposer le spectacle, le tout une nouvelle fois au son de la réorchestration contemporaine de « A Dream Is a Wish Your Heart Makes », avec bien entendu moult effets pyrotechniques et de fontaines pour un final beaucoup plus grandiose.
Après cela, nous avons bien entendu droit à la séquence post-show, plus calme, et jouant essentiellement sur le mapping et les fontaines, le tout bien sûr avec l'énorme logo « 25 » projeté sur la porte du Château.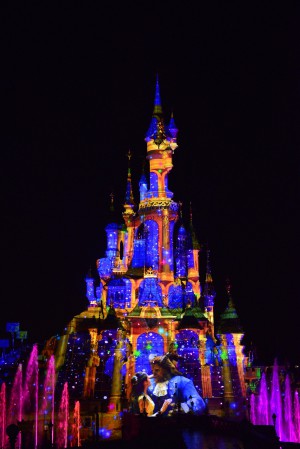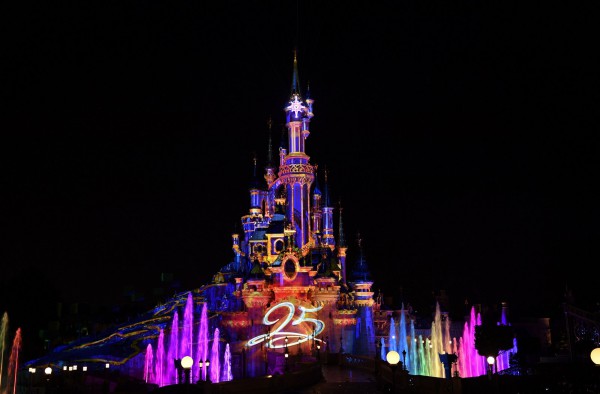 Comme vous l'aurez certainement compris, Disney Illuminations constitue LA véritable déception parmi les nouveautés du 25ème anniversaire. Bien que plus spectaculaire et travaillé d'un point de vue technique (pyrotechnie et fontaines) que Disney Dreams, ce nouveau spectacle nocturne perd clairement en qualité émotionnelle et surtout scénaristique. Mais la grosse déception est certainement à mettre au niveau du mapping, puisqu'en dehors de quelques passages, notamment lors de l'introduction et du final, l'architecture du Château n'est quasiment pas utilisée, celui-ci servant uniquement d'écran géant.
Nous n'allons pas vous cacher qu'au sein de l'équipe du site, Disney Illuminations divise, avec les pour et les contre. Une division qui est aussi perceptible au sein même de la communauté des fans, à lire les retours sur ce spectacle depuis son lancement. En soi, Disney Illuminations n'est pas un mauvais spectacle nocturne, mais son principal problème, c'est d'arriver après l'inoubliable Disney Dreams. Le mieux, comme toujours, c'est de vous faire votre propre avis, pas seulement sur vidéo, mais en allant le voir sur place.


Alors que nous prenons le chemin de la sortie, une toute dernière surprise nous attend sur Town Square, au balcon de Main Street Station, avec Mickey Vous Souhaite Bonne Nuit. Tout comme la Famille d'Honneur, le 25ème anniversaire ressuscite donc cette vieille tradition des parcs Disney, qui consiste à faire venir Mickey Mouse à la fermeture du parc, afin de saluer une dernière fois les visiteurs qui rentrent chez eux (merci à nos amis de DLP Welcome pour nous permettre le partage de leur vidéo).
Ce double article de présentation des festivités du 25ème anniversaire de Disneyland Paris s'achève ici. Si quelques déceptions sont à noter, principalement en ce qui concerne le spectacle nocturne, et peut-être le manque de décorations propres à l'événement, le bilan général est globalement positif. Nous retiendrons donc principalement de cette saison anniversaire le spectacle Mickey présente: «Joyeux Anniversaire Disneyland Paris », ainsi que la nouvelle Disney Stars on Parade, sans oublier bien sûr le retour des attractions Disney proposant une nouvelle expérience, et notamment Star Tours.
Pour profiter du programme du 25ème anniversaire, rendez-vous cette année 2017 à Disneyland Paris, et très probablement aussi un peu en 2018.