« Il y a bien longtemps, dans une galaxie lointaine, très lointaine…. ». Cette phrase d'accroche, vous la connaissez très certainement, puisqu'elle introduit depuis 1977, chaque film de l'une des plus célèbres franchises cinématographiques, Star Wars. Dix ans après le dernier film de la célèbre saga créée par George Lucas, nous assistons donc à un retour inespéré de Star Wars au cinéma. Mais que vaut donc cet « Episode VII: Le Réveil de la Force », premier volet de la « Postlogie », arc narratif de trois films qui fait suite à la Trilogie originale et à la « Prélogie » des années 2000? on vous en dit un peu plus, et vous livre son avis, sans spoilers !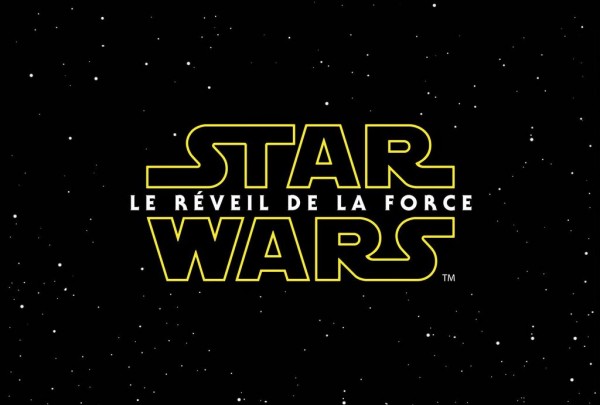 2005-2015. Dix années sans nouveau Star Wars au cinéma. Quand la Prélogie s'est achevée avec l'Episode III: La Revanche des Sith, l'ensemble des fans de Star Wars pensait que ce serait le dernier des derniers films de la saga au cinéma. La franchise n'était cependant pas éteinte pour autant, des projets de séries télévisées, animées et live étaient prévus pour prendre la suite. Au final, seule la série animée The Clone Wars verra le jour à partir de 2008.
Mais le 30 octobre 2012, coup de théâtre. La Walt Disney Company annonce en grande pompe le rachat de Lucasfilm, le groupe de George Lucas, et détenteur des droits de la célèbre franchise spatiale. Dans la foulée, Lucasfilm, désormais dirigé par la productrice de Steven Spielberg Kathleen Kennedy, révèle travailler depuis quelques mois à la pré-production d'un nouveau film Star Wars, suite directe de l'Episode VI: Le Retour de Jedi.
George Lucas ayant définitivement pris sa retraite après la vente de sa société à Disney, il fallait trouver une nouvelle équipe créatrice pour monter cette nouvelle trilogie. Après quelques semaines d'hésitation, c'est finalement J.J. Abrams (les séries Alias et Lost, les films Mission Impossible 3, Super8, Star Trek, Star Trek Into Darkness) qui est choisi pour réaliser l'Episode VII, qui n'avait alors pas encore de nom. À l'image du créateur de la franchise, Abrams est également scénariste du nouveau film. Pour l'aider dans cette tâche, il dispose d'une part des notes de pré-production de Lucas lui-même, mais il s'entoure surtout des scénaristes Michael Arndt (Little Miss Sunshine, Toy Story 3, Hunger Games – l'Embrasement), et Lawrence Kasdan (Star Wars Episode V – L'Empire Contre-Attaque, Star Wars Episode VI – Le Retour du Jedi). En novembre 2014, le nom du nouvel épisode est révélé, ce sera « Le Réveil de la Force« .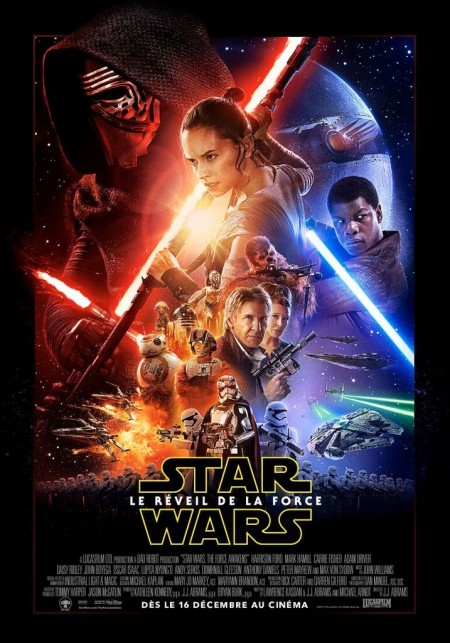 Mais avant de nous étendre plus en profondeur sur ce dernier volet, un petit retour sur les précédents épisodes de la saga s'impose pour les novices. Star Wars, c'est avant tout l'histoire d'un clan familial, celui de la famille Skywalker, de son entourage, et de leur influence sur toute une galaxie.

L'histoire commence alors que la République Galactique traverse une période de trouble, certaines planètes menaçant de quitter le système républicain pour en fonder un nouveau parallèle. Pour cela, tous les coups sont permis, allant du blocus commercial à des actes terroristes, en passant par les plus traditionnels blocages parlementaires et juridiques. La guerre civile est évitée de justesse grâce notamment à l'action de l'ordre Jedi, une organisation religieuse, garante du maintien de la paix dans la Galaxie.
Anakin Skywalker, un padawan (apprenti Jedi) aux origines modestes se révèle être « l'élu de la Force », la puissance mystique qui régit le bien et le mal dans l'Univers. Anakin est cependant tiraillé par ses émotions, et a tendance à osciller entre le côté lumineux et le côté obscur de la Force. La guerre civile, connue sous le nom de Guerre des Clones, finit par éclater dans la galaxie, opposant ainsi les armées droïdes des Séparatistes, à l'armée de Clones de la République. Anakin et son maître Jedi Obi-Wan Kenobi, sont directement impliqués dans le conflit, qui est un véritable drame pour l'ordre Jedi, dont les effectifs sont fortement affectés.
Alors que la République est sur le point de l'emporter, le Chancelier Suprême Palpatine, dirigeant de la République, révèle alors sa véritable nature : il est Dark Sidious, un seigneur noir des Sith, les ennemis héréditaires de l'Ordre Jedi. Palpatine, qui a lui-même déstabilisé la Galaxie en dirigeant dans l'ombre les séparatistes, tout en étant le dirigeant de la République, se fait passer pour la victime d'une tentative de putsch menée par les Jedi, et déclare alors la réorganisation progressive de la République réunifiée en Empire. Il réussit également à séduire Anakin Skywalker, et à le faire basculer du Côté Obscur de la Force, afin de sauver sa femme, la sénatrice Padme Naberri, et leur enfant à naître. Dès lors, Anakin Skywalker cesse d'exister et devient Dark Vador.
Les Jedi, déclarés hors-la-loi, sont massacrés. Seuls quelques représentants de l'ancien ordre arrivent à survivre en secret, dont l'un des grands maîtres, Yoda, ainsi qu'Obi-Wan Kenobi. Dans sa fuite, ce dernier est confronté à son ancien apprenti. Il en sort victorieux, et Dark Vador est grièvement blessé durant le combat. Dès lors, il ne sera plus jamais le même et sera contraint de revêtir sa célèbre armure.
Padme, la femme d'Anakin, meurt de chagrin en donnant naissance à des jumeaux, Luke et Leia. Afin de cacher leur existence à leur père et à l'Empereur Palpatine, les deux enfants sont séparés. Leia est adoptée par le sénateur Bail Organa, un ami de Padme. Luke est confié à Owen Lars, le demi-frère d'Anakin, sous la surveillance d'Obi-Wan.
Presque vingt ans plus tard, l'Empire est à son apogée. Avec l'achèvement de la construction de son arme ultime, l'Étoile de la Mort, l'Empereur Palpatine peut ainsi dissoudre définitivement le Sénat, dernier vestige de l'ancienne République, et tenir ainsi en otage l'ensemble des systèmes de la Galaxie.
Cependant, il doit faire face à une Rébellion de plus en plus grande, menée par la Princesse Leia Organa. Mais alors que les Rebelles viennent juste de réussir à dérober les plans secrets de l'Etoile de la Mort et de les confier à la Princesse, celle-ci est faite prisonnière par Dark Vador. Leia a juste le temps de cacher les plans à l'intérieur d'un droïde, R2-D2, qui par un étrange hasard va se retrouver sur Tatooine. Là aussi, le hasard, ou plutôt La Force, faisant bien les choses, R2-D2 et son compagnon de route C-3PO, échoueront entre les mains de Luke Skywalker, jeune fermier de la planète.
Cette rencontre conduira le jeune Luke vers sa destinée, rétablir ainsi l'équilibre dans la Force, et la Paix dans la Galaxie, en rejoignant l'Alliance Rebelle. Dans cette tâche, il sera aidé par Obi-Wan Kenobi, l'ancien maître de son père Anakin, qui n'a jamais cessé de veiller sur lui, et qui l'initiera aux arts Jedi. Dans son voyage, Luke pourra également compter sur Han Solo et Chewbacca, un duo de contrebandiers arnaqueurs mais qui se révéleront des alliés de choix. Et bien entendu, Luke pourra aussi compter sur la Princesse Leia, qu'il libèrera de l'Étoile de la Mort.
Au cours de ces aventures, Luke et ses amis réussiront à mettre plusieurs fois l'Empire en échec, notamment en détruisant l'Étoile de la Mort. Il devra cependant faire face à la perte de son maître Obi-Wan, qui après avoir vaincu son ancien apprenti il y a des années de cela, se laissera tuer par Vador afin de rejoindre La Force.
u fur et à mesure des victoires des Rebelles, Dark Vador et Palpatine finiront par apprendre le nom de celui qui tient ainsi tête à l'Empire : ni plus ni moins que le fils présumé mort à la naissance d'Anakin Skywalker. Dès lors, l'objectif des seigneurs Sith est de faire également basculer Luke du Côté Obscur de la Force.
Malgré un apprentissage renforcé des arts Jedi auprès de l'ancien grand maître de l'Ordre, Yoda, Luke ne pourra réussir à déjouer complètement le piège de Vador. Son ami Han Solo sera ainsi capturé et livré à son ancien employeur, le trafiquant Jabba le Hutt. Et lors de son combat contre le seigneur Sith, Luke perdra sa main et apprendra la terrible vérité… Dark Vador est son père. Très éprouvé, le jeune Jedi réussira cependant à s'enfuir.
Après quelque temps, aidé de Leia et de ses amis, il libèrera Han Solo des griffes de Jabba. Avant de rejoindre l'Alliance Rebelle pour l'ultime bataille contre l'Empire, Luke retourne une dernière fois auprès de Yoda. Aidé du fantôme de Force d'Obi-Wan Kenobi, Yoda confirmera à Luke son lien de parenté avec Dark Vador, et lui révèlera qu'il n'est pas le dernier des Skywalker. Luke pressentira alors à juste titre que la Princesse Leia est sa sœur jumelle. Lorsqu'il le lui révèlera, Leia lui avouera qu'elle l'avait aussi pressenti, car elle aussi possède des aptitudes au contrôle de la Force.
Lors de l'ultime bataille autour d'une nouvelle Étoile de la Mort, Luke devra affronter une nouvelle fois son père. Mais cette fois-ci, l'Empereur Palpatine veillera à ce que le jeune Luke bascule du côté Obscur. Le jeune Jedi se révèle finalement plus fort que son père, mais se refuse cependant à l'achever, sentant toujours du bon en lui. L'Empereur tente alors de tuer Luke, mais devant cette scène, Dark Vador disparaît et Anakin Skywalker refait surface. Il tue alors Palpatine, mettant ainsi fin au règne des Sith, et ramenant l'équilibre dans la Force. L'Empire est défait, la prophétie est accomplie. Anakin peut alors mourir dans les bras de son fils, et rejoindre la Force aux côtés de ses anciens maîtres Jedi, tandis que ses enfants devront désormais s'atteler à reconstruire la République et l'Ordre Jedi.
Nous voilà donc à la suite de l'histoire… et le moins que l'on puisse dire, c'est que le synopsis officiel du Réveil de la Force n'est pas très parlant sur l'histoire même du film:
« Dans une galaxie lointaine, très lointaine, un nouvel épisode de la saga « Star Wars », 30 ans après les événements du « Retour du Jedi ».« 
Sans vous en dévoiler trop (le film est plein de révélations et de rebondissement dramatiques), nous retrouvons donc d'un côté les héritiers du côté lumineux, et de l'autre ceux du Côté Obscur de la Force.http://www.dailymotion.com/embed/video/x3im8ns

Ainsi, après l'affrontement République contre Séparatistes, et celui des Rebelles contre l'Empire, le contexte politique de Star Wars Episode VII : Le Réveil de la Force s'inscrit dans une certaine continuité. Après la bataille d'Endor, les Rebelles ont fondé une Nouvelle République. Mais le démantèlement de l'Empire n'a pas été une chose aisée après la mort de l'Empereur Palpatine et de Dark Vador. Ainsi, des cendres de l'Empire a surgi le Premier Ordre, regroupant une bonne partie des officiers et soldats n'ayant pas décidé de déposer les armes. Bien qu'étant une organisation moins puissante que l'Empire, le Premier Ordre n'en reste pas moins très dangereux pour la République. Ne pouvant officiellement lutter contre celui-ci sans provoquer une nouvelle guerre civile, la République soutient donc officieusement la Résistance, sorte d'organisme para-militaire composée pour une grande partie par les anciens Rebelles.
C'est dans ce contexte géopolitique qu'évolue la jeune Rey, héroïne et personnage principal de la postlogie. Pilleuse d'épaves sur la planète désertique Jakku, Rey est certainement le personnage féminin le plus fort jamais introduit dans la saga. C'est une mécanicienne et une pilote hors-pair, et une véritable combattante. Il faut dire qu'après avoir été mystérieusement abandonnée dans ce cimetière de vaisseaux spatiaux, Rey a du apprendre seule à survivre à cette planète hostile. C'est la jeune comédienne Daisy Ridley, dont c'est ici le premier grand rôle au cinéma, qui donne vie à cette première grande héroïne de la saga Star Wars. Elle est assurément la révélation du film.
Si Rey est l'héroïne du Réveil de la Force, Finn en est incontestablement le héros. Enlevé à sa naissance pour devenir Stormtrooper, Finn ne se voit pourtant pas obéir aux ordres sans pitié du Premier Ordre. Il réussira donc à s'ouvrir les portes d'un tout autre destin, en trahissant ses anciens maîtres. Si son passé semble lui peser, ce Stormtrooper repenti et au grand cœur, interprété par John Boyega, s'avère pour autant être un personnage drôle et prêt à passer à l'action. Il faut dire que quand on est élevé pour le combat depuis son plus jeune âge comme Finn, on est toujours prêt à se jeter dans la mêlée, malgré ses peurs.
La saga Star Wars a élevé au rang de véritables icônes certains de ses droïdes dont bien entendu le duo de C-3PO et R2-D2. Ce nouveau volet ne l'a pas oublié et tente d'ajouter un troisième élément à l'équation avec le droïde le plus adorable de la saga : BB-8. Tout rond, aux expressions presque humaines, il s'avère être très attachant dès sa première apparition. Son rôle dans cet épisode permet de le voir régulièrement à l'écran pour notre plus grand plaisir. Son intégration à la grande famille Star Wars est en tout cas déjà un immense succès populaire et le petit droïde est la coqueluche du public !
A côté de ces nouveaux personnages, nous retrouvons un duo de choc, déjà bien connu des fans de la saga. Ce 7ème volet marque donc le retour d'Han Solo et de son compagnon de voyage Chewbacca. Avec le temps, les vieux démons d'Han sont revenus le hanter, et malgré son âge, il a repris ses petites arnaques douteuses aux quatre coins de la Galaxie. Nos nouveaux héros semblent cependant le connaître pour sa réputation passée, qu'elle soit bonne ou mauvaise. Harrisson Ford retrouve ici le rôle du contrebandier au grand cœur qui l'a fait connaître au grand public à la fin des années 1970. Il est accompagné de Peter Mayhew, qui reprend ici la fourrure de Chewie, 10 ans après son apparition dans l'Episode III.
Parmi la panoplie de nouveaux personnages alliés de nos héros, Maz Kanata est certainement la plus intéressante. Cette alien, petite par la taille, mais grande par l'âge et par la sagesse, responsable du point de ravitaillement de Takodana dans la bordure extérieure, est un peu le pendant féminin de Maître Yoda. Il se pourrait même qu'elle soit liée au célèbre maître Jedi. En tout cas, elle semble connaître beaucoup de choses sur le passé de nos héros, sur leur destinée, ainsi que sur La Force.
A l'image d'un autre personnage du film qui se trouve du côté Obscur de la Force, Maz est réalisée en Motion Capture. C'est l'actrice Lupita Nyong'o qui lui prête sa voix et ses expressions faciales.
Qui dit nouvelle rébellion, ou donc Résistance ici, dit nouveaux héros. L'un d'eux est un pilote de X-Wing chevronné du nom de Poe Dameron. On en sait peu sur ses exploits passés qui lui ont valu cette reconnaissance, mais la démonstration de son talent sera en tout cas faite dans Le Réveil de la Force ! Ce pilote interprété par Oscar Isaac possède même un X-Wing aux couleurs uniques orange et noir de l'escadron noir. Comme tout pilote, il possède un copilote droïde qui est ici ni plus ni moins que l'adorable BB-8 !
La Résistance est dirigée, comme l'était la Rébellion, par la Princesse Leia. Princesse ? Plus vraiment puisqu'elle est dans ce nouveau volet le Général Leia Organa. Les années ont passé, mais Carrie Fisher incarne toujours ce personnage de caractère à l'écran et c'est un certain C-3PO (encore une fois avec Anthony Daniels sous le costume doré) que l'on retrouve comme fidèle serviteur à ses côtés.
Si Rey, Finn, et BB-8 peuvent compter sur Han Solo, Chewie, Maz, et les membres de la Résistance pour les aider dans leur voyage, ils devront faire face au plus redoutable serviteur du Nouvel Ordre, Kylo Ren. L'objectif principal de ce chevalier noir de l'Ordre de Ren est simple: détruire les Jedi, à commencer par le premier d'entre eux… Luke Skywalker.
De part son style vestimentaire, son masque, et l'attitude qu'il veut se donner, Kylo Ren cherche clairement à se placer comme l'héritier direct de Dark Vador. Mais le chevalier de Ren, interprété par Adam Driver, est encore loin d'égaler son modèle. Malgré son attrait pour le Côté Obscur, ses aptitudes à La Force, et sa maîtrise de l'épée laser, Kylo n'est pas un Sith, mais plus un Jedi Noir.
Mais Kylo Ren ne la joue pas solo à la tête du Premier Ordre. Dans sa tâche, il est accompagné du Général Hux, le chef militaire du Premier Ordre. Fils d'un ancien officier impérial, Hux suit et surpasse très largement les pas de son père. Outre la direction de la base Starkiller, Hux semble être l'un des instigateurs des méthodes de formation des nouveaux Stormtroopers. Joué par Domhnall Gleeson, le Général Hux se révèle être un être froid et sans pitié, éprouvant même un certain dédain pour celui qui dirige le premier Ordre à ses côtés.
Le Général Hux et Kylo Ren ne sont cependant pas seuls à la tête du Premier Ordre. En effet, le mystérieux Leader Suprême Snoke, joué en motion capture par Andy Serkis, semble tirer les ficelles derrière eux et leur donner ses ordres.
Le Premier Ordre a également hérité des troupes de l'Empire Galactique, c'est pourquoi nous retrouvons ici les Stormtroopers. Mais attention, contrairement à ce qui est convenu depuis l'Épisode II, les troupes ne sont ici plus des Clones. Un centre d'entraînement tout juste évoqué semble être derrière la production d'enfants soldats, dont est notamment issu Finn l'un des héros du film.
Enfin, au cœur des légions, nous retrouvons un nouveau personnage, le Capitaine Phasma, Stormtrooper commandant, avec une armure étincelante. Cette femme soldat est interprétée par Gwendoline Christie.
Et Luke Skywalker me direz-vous? Absent de la promo du film, le cas du frère de la Générale Leia Organa, toujours interprété par Mark Hamill est un mystère. Mais nous ne vous en dirons pas plus à son sujet, afin de vous préserver une certaine surprise.
Comme nous le signalions plus haut dans la critique, c'est donc J.J. Abrams que l'on retrouve à la réalisation de ce premier épisode de Star Wars « made in Disney ». Et le défi n'a pas été simple au regard de la pression du Studio, mais surtout de celle des très nombreux fans de la franchise. Mais s'il y avait bien un homme qui pouvait le relever, c'était bien lui, l'héritier spirituel de Steven Spielberg. Il suffisait de voir son travail sur le remake de la franchise Star Trek pour savoir qu'Abrams connaissait parfaitement son sujet en matière de Space Opera.
Il nous offre ainsi une réalisation plus pêchue que ce que nous avait donné George Lucas avec la Prélogie, tout en respectant les codes propres à la franchise (les transitions glissées entre les différentes scènes, le traditionnel combat au sabre laser, les séquences de combat spatial), et en y apportant sa touche personnelle (tournage traditionnel à la pellicule, permettant ainsi de capter de façon si particulière la lumière, et d'avoir ces fameux halos lumineux si chers au réalisateur de Super8).
Ce côté très traditionnel de la réalisation, nous le retrouvons également dans les effets spéciaux. Si certaines séquences sont ainsi toujours réalisées en infographie, et que deux des personnages du film sont créés par Motion Capture, J.J. Abrams a souhaité utiliser au maximum des décors et paysages réels, des animatronics traditionnels, et des maquettes grandeur nature, plutôt que de tout reconstituer par fond vert, l'un des principaux reproches fait à George Lucas dans la réalisation de la Prélogie. Et le résultat est tout simplement parfait, très réaliste, et l'on ressent très clairement beaucoup moins cette présence des écrans verts dans la majeure partie des séquences du film.
Du côté de la musique, qui est certainement l'un des principaux marqueurs de la saga Star Wars, c'est John Williams, compositeur historique de la franchise, qui rempile pour un dernier tour de piste. Si les compositions accompagnent bien les images, nous pourrons regretter l'absence de véritable nouveauté, avec un thème musical fort qui se démarquerait du reste, comme nous pouvions en avoir avec la Prélogie (Duel of the Fates, Across the Stars, Battle of the Heroes) ou la Trilogie (Star Wars Main Title, Cantina Band, le thème de La Force, Princess Leia's Theme, The Imperial March, Yoda's Theme, Parade of the Ewoks). Il aurait été plus sage de confier la partition à un compositeur plus jeune, car pour le coup, on sent bien que John Williams n'était pas très inspiré. La musique de la dernière bande annonce, qui était un remix, était pour le coup bien plus surprenante et excitante que le résultat final, véritable point décevant de cet épisode.
Avant de conclure, laissons la parole à quelques personnes ayant déjà vu le film, pour qu'elles vous donnent leur avis sur ce nouveau Star Wars post-George Lucas.